Growing and managing a business is tough.
There are days you feel on top of the world, yet there are others when you feel paralysed and unsure where to turn next. Add in the demands of family life or a difficult set of personal circumstances, and it's no wonder we all feel we could use some extra support from time to time.
In 2022 Virtalent signed the Mindful Employer Charter, our first step towards creating a more supportive and open culture around mental health at Virtalent.
But there's more – we want to support our Virtalent community on their personal journey, as we work together to help our clients to grow their businesses, too.
That's why we are thrilled to announce the launch of AssistYou – an Individual Assistance Programme (IAP), delivered in complete confidence by a specialist provider.

We're passionate about putting people before profits. Virtalent wouldn't be the business it is today without our experienced and reliable team. Real people, living their lives and working hard. We all deserve support "outside of work" and our AssistYou programme is our way to give something back to our incredibly professional community.

Sam Wilson, Co-Founder, Virtalent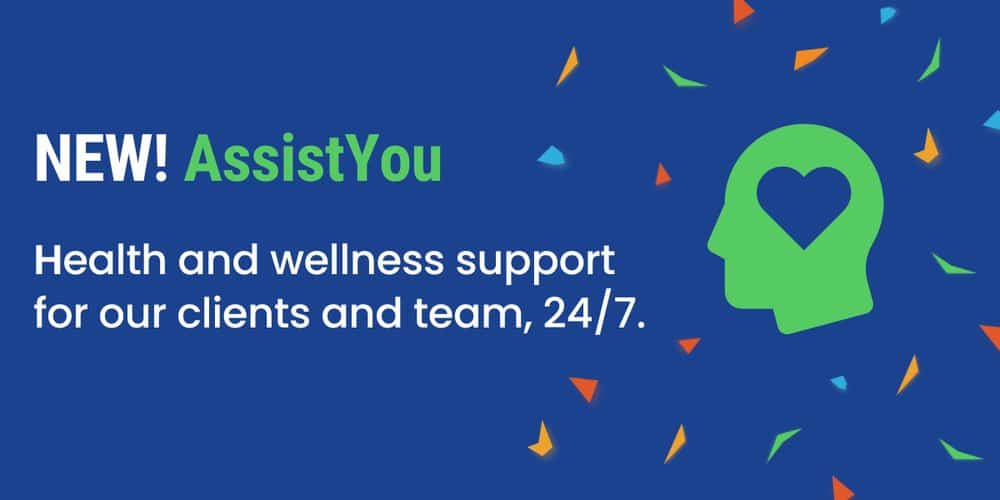 What Is An IAP?
An IAP is a comprehensive, confidential programme designed to help you deal with personal and professional challenges that could be affecting your home life or work life, health and general wellbeing.
The new AssistYou IAP service provides a complete support network that offers expert advice and compassionate guidance 24/7, covering a wide range of issues. We strongly believe in providing an IAP service that offers not only reactive support when someone needs it but also proactive and preventative support to deliver the best possible outcomes.
Who Will Have Access?
AssistYou will be available to all of our clients, we are also proud to be extending this benefit to include our growing team too.
Why An IAP?
Balancing everyday life with the requirements of work and home can create pressures for all of us. Work is a large part of all our lives.
This is especially important for us to reflect on when many of our clients – and all of our team – work remotely, often in isolation for parts of the day.
Key Features of AssistYou:

AssistYou mobile app. This is a key part of the IAP and gives access to everything from breathing exercises to 4-week health programmes.
24/7 support helpline, available 365 days a year. Our team's immediate family members can also use the service.
Specialist information on personal, financial and legal matters.
Structured counselling sessions, if requested.
Health & wellbeing portal.
Our hope is that our Virtalent community will embrace the AssistYou support available and use it however best suits their personal needs.
We are resolutely committed to the mental health of everyone the company has an impact on.
We have a growing programme of support planned but hope you'll join us in celebrating this exciting launch, one that we are incredibly proud of.
Read more about our support programme here.