Simple set up. Immediate impact. Take a closer look at how our VAs get started with you.
Book Your
Free Consultation
Let's talk and get to know each other.
First step: book a free consultation with us. That's how we get the ball rolling. We'll get to know you and your business' needs, discuss how you like to work and the kind of qualities you're looking for in a VA.
Your consultation is also your opportunity to learn more about Virtalent, what working with a Virtual Assistant is like and how our unique matching process works.
Then, we go away and discuss which of our expert VAs would be best suited to you. Once we've considered the type of work you need support with, and our VAs' expertise, we put forward our suggestion to you.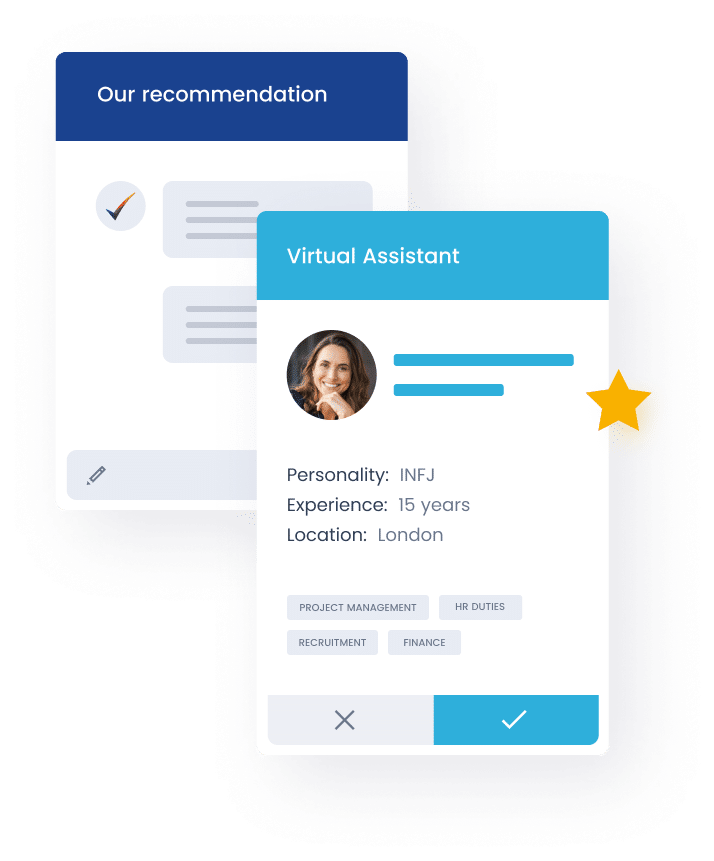 We'll quickly choose you the perfect VA.
We know where our VAs' strengths lie. Our expertise is centred on matching you with the right person – with the experience and personality you need.
Just give us a day or two and you'll have a detailed proposal outlining the details of a handpicked Virtalent VA – their experience, suitability and personality – someone we know will be perfect for your business.

Chat with our recommended VA and see if you click.
We don't want you to be satisfied: we want you to be truly excited about working with your new VA. That's why unlike other VA services, we always give you the chance to talk with your recommended Virtual Assistant to make sure you 'click' – before you create your Virtalent account.
We'll set up a call for you to chat with your would-be VA – about your business, their experience, previous projects and preferred working style.
And if you're not 100% certain, or you feel something's missing, we'll work with you to find your ideal VA.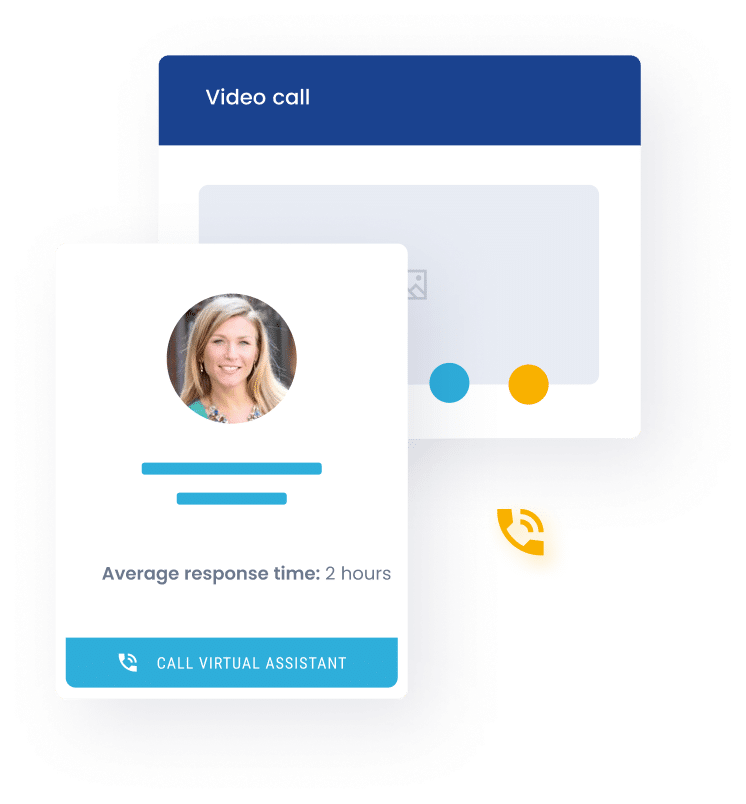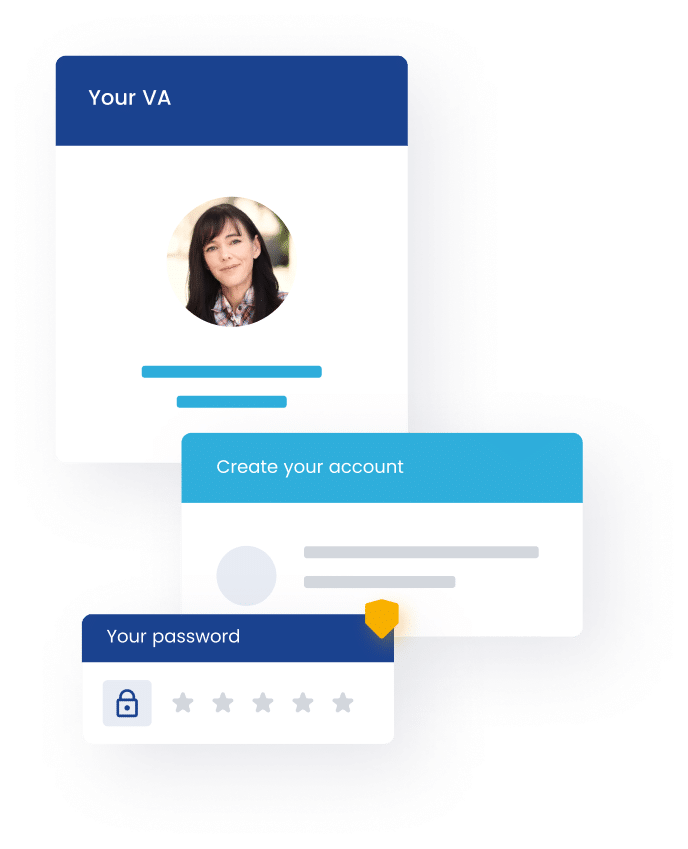 Create Your Account

in 60 Seconds
Your Client Success Manager is ready to help.
Time's ticking. And when you have little to spare, you don't want to waste it filling in forms. Luckily, ours is pretty easy.
Your Client Success Manager will be on hand to offer help and advice on getting the most from our service, and address any other concerns along the way. They'll also hold regular review calls and feedback sessions with you, and can also arrange cover when your VA is away or ill.

That was pretty painless, right?
Virtalent VAs know their onions. Yours will expertly guide you through the first few weeks, as you get accustomed to remote working. And your Client Success Manager is always on tap too.
You'll also get access to Virtalent's very own Task Portal, where you'll find a stack of handy resources to help you grow your business smoothly – such as timesheets, VAT invoices and other essentials.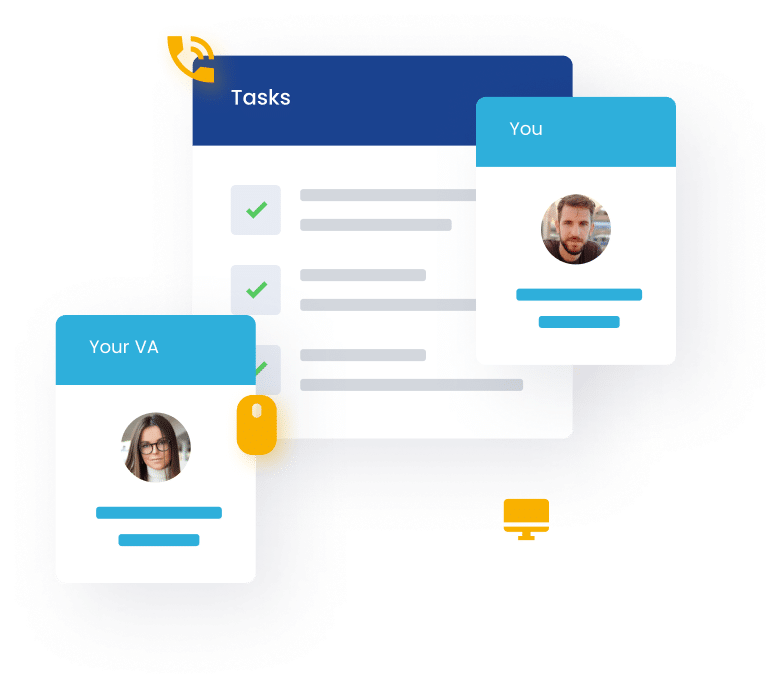 Talk to us about hand picking a VA to help grow your business.
You can also call us on 0330 120 0477 if you need to chat.
What makes Virtalent different from your competitors?
We're proud to do things differently at Virtalent.
First off, with an average of 15 years professional experience upon joining the Virtalent team, our Virtual Assistants are likely to be the most talented VAs you can hire in the UK and yet still get value for money. Our competitors will either price you out (while offering little, if anything, extra in return) or water down the quality of their talent pool to make it much easier for them to hire new VAs.
At Virtalent we've found a sweet spot – you can hire an awesome VA at a price you can realistically budget for.
Next is the completely tailored matches we make. We put your needs first, not ours.
At Virtalent we'll take the time to speak to you, hear about your business and discuss the support you're looking for, so you can take things to "the next level". We'll then discuss your needs as a team before handpicking the very best Virtual Assistant we have available for you – we'll look at everything from the companies they've worked with in the past to your shared personal interests. Many a successful relationship has been built on a shared passion for property or a keen interest in fashion!
Once we have the perfect match, we'll send you a detailed profile of that VA and, if you like what you see on paper, we'll set up a call between you both.
Our meticulous matching process works… and we can promise you it's a far cry from the way our competitors do things!
Now we come to your truly dedicated Client Success Manager.
Each client we work with is not only matched with an exceptional VA, but is also partnered with a Client Success Manager. Unlike our competitors, you won't be known as "Ticket #859" in our team inbox that day. Your Client Success Manager is a real human who will know you and your business well, answering your questions quickly and proactively working to help you get the most out of your VA.
Struggling to know which to-do list app to pick? Unsure what other tasks you could be delegating? Give them a call at any time.
We're proud of our unique cloud-based culture and our relentless passion to help business owners like you better use their time.
Why can't I sign up online right away?
We know, we know. We don't offer a free trial and we don't have a fancy algorithm working away to give you instant access to our VAs. What a bother!
But here's the thing. Many of our competitors cut corners. Sure, you can create an account with them right this second. But if you do, you'll need to rely on their dashboard to assign you to your new VA, entirely at random from one of hundreds available.
There's no carefully-crafted matching process, no selection meetings, no detailed proposals, no phone calls with your new VA and, well, no passionate people working to ensure you get the opportunity to work with the perfect person for you and your hard-built business for many years to come. Just millions of tasks being churned out by a sea of faceless task robots.
It might shave a few minutes off of your day today (maybe), but do you really want to leave the fate of your growing business in the hands of a computer? Do you not want a little more out of your budget?
We promise you, it's not a shortcut worth taking.
At Virtalent we want to understand who you are as a human being (what makes you tick?), what support you're looking for and discuss how we can fit in with your existing plans, as a trusted partner. That means we need to talk.
On average, a consultation call takes just 22 minutes and we aim to send you a proposal within 24 hours. You then get to speak to the VA we recommend before you need to make any decision at all.
Why do I need to speak with the VA you recommend?
Your new VA will be working to support you every single day, likely for many years to come, so we think it's important for you both to connect and make sure you are the right fit for each other, well before you sign up to our service.
These calls can last as little as 10 minutes if you simply prefer to say a quick "hello".
How does billing work?
Taking out an account with Virtalent is simple. You just need to pick the Support Plan (10 to 60 hours per month) that you think is a good starting point for you right now – remember you can switch plans at any point in the future.
The date you sign up online is known as your monthly "billing date" and we'll continue to invoice you for your plan each month unless you tell us otherwise.
We want to make sure you can always access the support you need. If you want to delegate more work to your VA you can do so – our portal will simply bill you for any additional time you need (at the equivalent hourly rate for your plan).
If you don't use all the time you prepaid for, it will rollover to the next month (though note it doesn't roll over indefinitely), and if you ever need to find an overview of your account – including a breakdown of the time you have available and what has been logged so far – you can log in to our Portal at any time.
What does my Client Success Manager do?
All of our clients are partnered with a Client Success Manager. Your Client Success Manager at Virtalent is there to proactively help you get the most out of our service, not only answering your questions, but also guiding you and reviewing how the service is working for you.
From structured review calls through to software recommendations and tips on working remotely, alongside your Virtalent VA, your Client Success Manager is there to guarantee you can use your precious time each week as effectively, efficiently and enjoyably as possible!
How do I get started?
The first step is to book a consultation call with our team. It takes just 20-30 minutes and, if you're happy for us to do so, we'll use our notes from the call to handpick a Virtalent Virtual Assistant for you. Otherwise it's just a chance for you to learn more about our solution.