There is a misconception in business that being a leader is about authority and being direct. However, this approach would not necessarily be the most effective for many businesses. It could even pigeonhole and hold back some potentially great leaders.
For the most part, leadership is often about balance – balancing the needs of the tasks of the business, your customers, or your team, including your virtual assistants.
Leadership can come in many forms, all relying heavily on balance. One approach is the idea of an "Action-Centred Leader."
What Is An Action-Centred Leader?
British theorist John Adair first devised the concept of an Action-Centred Leader. The concept was simple – strong leadership is about balancing the TASK, TEAM and INDIVIDUAL.
In Adair's view, a good leader is capable of balancing these three key elements:
Being able to achieve the objectives of the business or organisation by managing the task effectively,
Maintaining a cohesive and motivated team,
Ensuring that each individual member of the team is being developed and allowed to bring their best attributes to the table.
Like a Venn diagram, this leadership style overlaps and works together to create success, but equally needs to be carefully managed to ensure a fair spread of energy, time, and resources.
What Are The Benefits Of Being An Action-Centred Leader?
The benefits of honing this type of leadership can be great for any business. One particular benefit is that mastering the Action-Centred leadership model can bring ultimate flexibility to any task, project or team.
By adapting to changing circumstances and having the skills and knowledge to manage any task from all three angles (task, team, individual), an Action-Centred Leader can achieve better results, increase productivity and boost any team or organisation's morale.
It's also incredibly hands-on, which can help to foster a real sense of accountability and ownership across the whole team.
The Responsibilities Of Being An Action-Centred Leader
Achieve the Task
The core role of a leader is to achieve the task at hand. The actions of this role means utilising your team and resources efficiently to join together for a common goal. It's imperative that, as a leader, you identify and define each member of the team's tasks, priorities and purpose. Then taking these, you must effectively communicate them and what is expected.
Refining the parameters of the overall task, and creating plans, timescales, strategies, and KPIs, are the framework that will help drive things forward. Much like taking a journey, your role as an Action-Centred Leader is to create the map for success. From which team member is doing what to when they need to do it, setting expectations and timescales will ensure that the goal will be achieved, or at least have an idea of what steps must be taken to achieve it.
Building The Team
An Action-Centred Leader's second core role is to help build, encourage and run a motivated and functional team.
This isn't just simply hiring people, but is as much about setting the standard for group behaviour and attitude.
A good leader will lead by example, and be involved directly with the team – working with them, monitoring that everybody has the necessary skills and training to carry out their tasks, and creating collaborative opportunities among the whole team.
One really important way to ensure a team's success is to be aware of, and actively monitor, the team's dynamics. By knowing what a team's strengths and weaknesses are it is easier to create an environment where everybody is working to the best of their abilities.
Developing Individuals
Finally, the third core value of an Action-Centred Leader is developing the individuals on the team itself.
Every person is different, and everybody within a team or organisation has a different experience, strength and skillset to bring to tasks. These can be obvious, while others could be fledgling talents that a strong leader can help to draw out and encourage individual members to develop.
One way of actioning this is by creating a development plan for each individual on the team. Investing time and attention into individual members' development can foster a feeling of appreciation and investment. People who feel invested in, are more likely to work harder and be loyal to a business that cares about their career progression and development.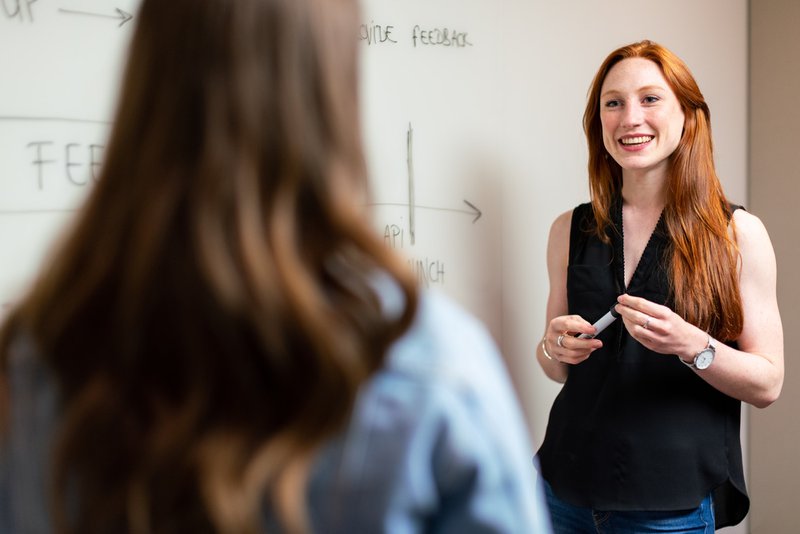 Steps You Can Take To Becoming An Action-Centred Leader In Business
Learn about the Action-Centred Leader model from John Adair's book
Identify areas for improvement by analysing your current leadership style
Set clear goals to develop and achieve for both yourself and for the team
Develop advanced communication skills and ensure you are able to communicate effectively with your team
Lead by example as team morale is often based on showing a positive attitude and aptitude
Take steps to develop your team and find out more about their career goals and how these can align with the business goals
Monitor team dynamics and address conflicts and issues
Be ready to adapt to changing circumstances as the ability to be flexible can help achieve better results
Ultimately, being an Action-Centred Leader is about balancing tasks, teams, and individuals. By being able to work these in harmony, offering the right care and attention at the right time, you can achieve incredible results and wonderful team dynamics. If this is an approach that you want to take with your team, you can get started on it today. You may find yourself surprised at the results you can achieve