A Hassle-Free
Upwork Alternative
Stop trawling through endless profiles. Instead, hire an effective, professional team you can always count on.

Upwork
| | | |
| --- | --- | --- |
| PREMIUM QUALITY | Yes – VAs meet strict criteria. Must pass through a rigorous selection process. | No - quality varies wildly. No vetting or verification takes place. |
| ACCOUNT MANAGER | Yes – for all customers. | No – you must pay extra. |
| HANDPICKED VA | Yes – based on your specific needs. | No – you go find them. |
| HOLIDAY COVER | Yes | No |
| UK-ONLY | Yes | No – global marketplace. |
| MANAGED WORKLOAD | Yes – monitored at all times to ensure it is realistic. | No – freelancers can take on as many clients as they want to bid on. |
| SIMPLE FEE MODEL | Yes – pay a set price per hour. | No – final fees depend on the freelancer, project type, time spent working together, your Upwork plan, payment method… and more. |
| EASY COMMUNICATION | Yes – communicate how you like. WhatsApp, calls, email, Slack… whatever works for you! | No – must use the Upwork app only. Anything else could see your account suspended. |
| QUALITY COMPROMISED | No – VAs are paid a competitive, set hourly rate across the team. No need to cut corners. | Yes – a highly competitive marketplace means contractors bid down their fees. This results in a "race to the bottom" to win new clients. |
See FAQs (below) to verify our claims.
Hear Why
Karina

Chose Virtalent
Karina explains "I'd tried other Virtual Assistant systems before and really found them lacking. But when I found the Virtalent team, it just 'clicked'!"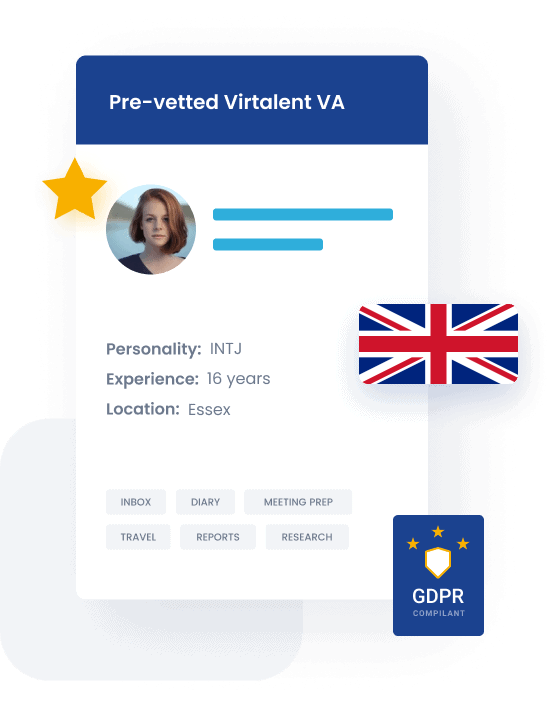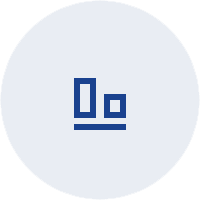 5* Quality,

100% Guaranteed
Here, we don't need you to rate your VA. We don't use draconian software that records their screens or counts their keystrokes. We don't force you to communicate with them through an app.
After all, why would we need to? Each vetted, expert Virtual Assistant at Virtalent has already passed a rigorous selection process and regularly receives glowing testimonials from countless customers.
We're not a faceless platform; we're a dependable team you can count on.
At Virtalent, we speak, we handpick your ideal VA, we send you a proposal. Then you get together, backed by the support of your dedicated Client Success Manager. It's quick, simple and works like a dream.
At Upwork, you'll need to trawl through hundreds of thousands of unvetted freelancers on the platform to find someone yourself. Unfortunately, there's little support, if any, if you make the wrong decision.
Like for like, it isn't any cheaper. It just takes up more of your precious time and energy.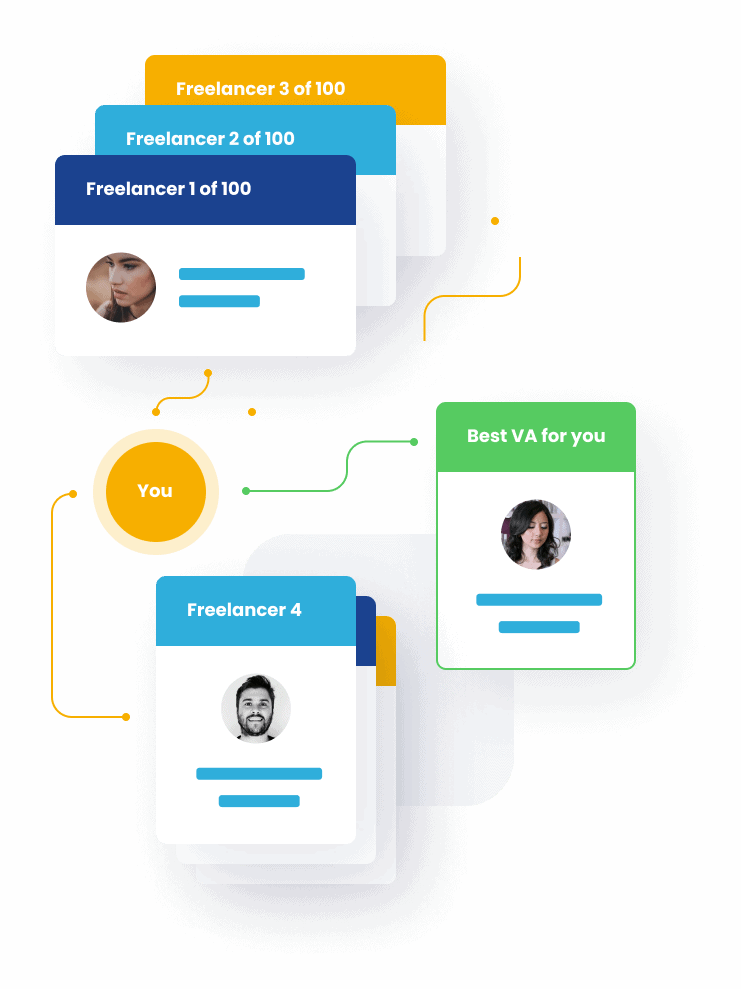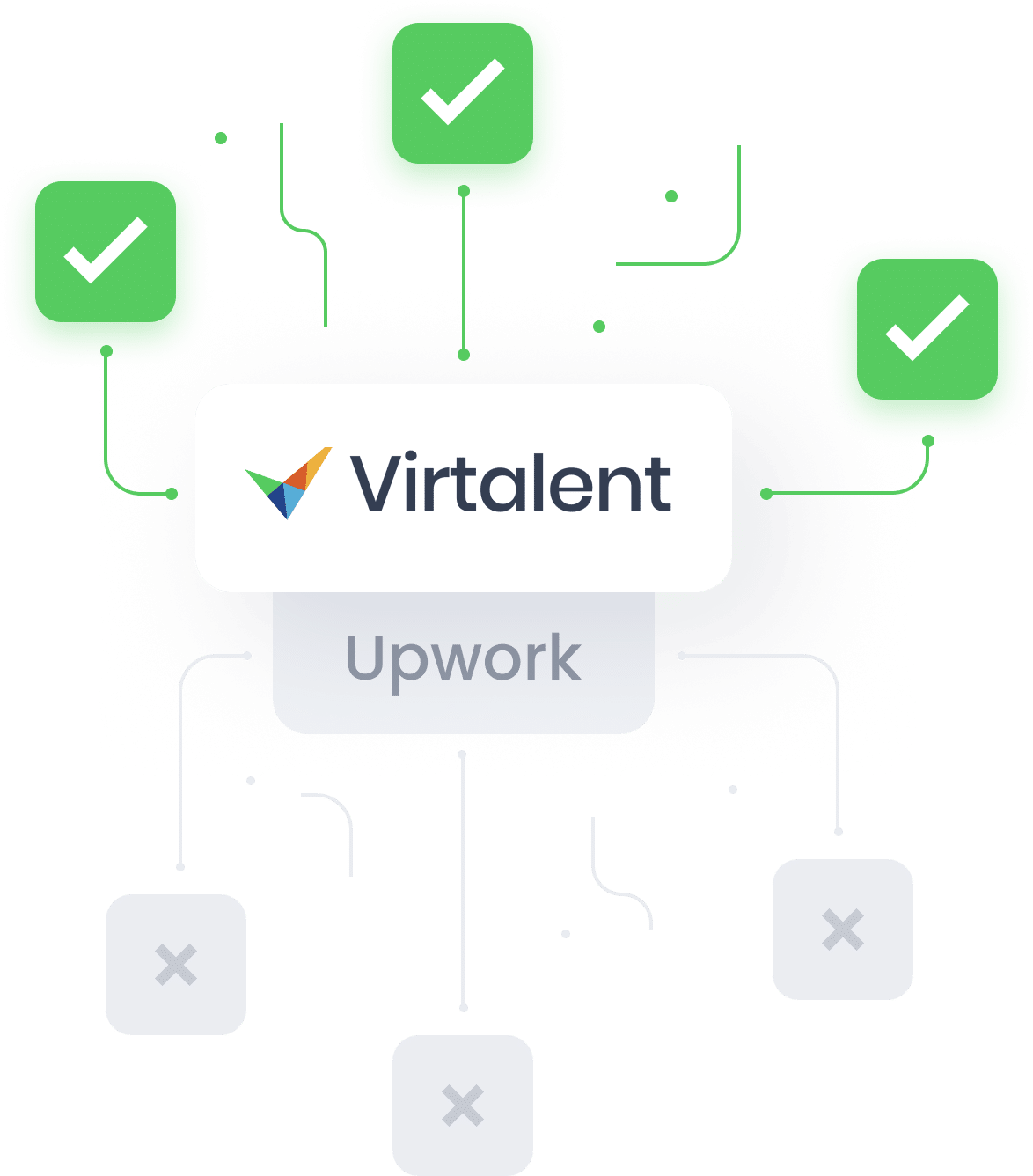 Focus On
Your Business

, Not Ours
Growing and managing your client base is tricky. You have new pitches to juggle, projects to complete, numbers to crunch, feedback to gather… the list goes on. But that's exactly why you're looking to expand your team, right?
Unlike Upwork, our Virtual Assistants aren't competing against each other to win your business. They don't spend their time pitching for work, managing team members or keeping their own business above water.
At Virtalent, our team tells us their capacity and we carefully fill it with clients they adore. That means they're focused on supporting you and your business alone – all day, every day.
Our handpicked team make us a top Upwork alternative.
Explore how we compare as a Upwork alternative.
OK. WHERE DO I CHECK THIS INFORMATION?
Virtalent is not affiliated with Upwork (formerly Elance-oDesk) – we're an alternative solution. We also only focus on the Virtual Assistant services detailed on our website here.
The key differences between our two solutions are outlined in the table above. In summary, Upwork is a global marketplace relying on a software platform to manage transactions between freelancers and customer (like Uber), whereas Virtalent is a fully-managed service provider (like a web design agency or accountancy firm).
Any information contained in this article is publicly available at the Upwork website, upwork.com.
If you don't feel this article is accurate, please let us know so that we can review your comments and make any changes needed.
WHAT'S THE PRICE DIFFERENCE BETWEEN YOU AND UPWORK?
Upwork is a marketplace hosting millions of freelancers across the globe, ranging from video editors in Mumbai to administrators in Melbourne. Each freelancer decides their own fees, with Upwork taking a cut of this.
It's therefore very tricky to make any direct comparisons. However, our own research has shown that the cost of hiring high-quality Virtual Assistants who are based in the UK (i.e. the closest comparison to who we have in our team) is noticeably more expensive on Upwork than coming to Virtalent.
We'd also highlight that anyone can freely register on Upwork – these freelancers aren't vetted or interviewed by the platform in any way – and we offer a whole host of added extras you won't find on Upwork. That's everything from holiday cover for when your VA needs a well-earned break, to a dedicated Client Success Manager you can call or email whenever you need!
WHERE CAN I SEE REVIEWS ABOUT VIRTALENT?
We're proud of the reputation we've built since 2014. It's seen us regularly interviewed in the press (think BBC News and The Guardian) and win industry titans like lastminute.com and Countrywide, the largest property company in the UK.
But we're even more proud of the amazing small businesses we get to help grow, each and every day.
You'll find verified feedback from our official reviews.co.uk page here.
Plus, if you want to hear more detail about the kinds of customers we support and how we typically help them, you can head to our Success Stories.
HOW DO I GET STARTED WITH VIRTALENT?
If you think we'd make a more suitable Upwork alternative for your business, the first step is for us to discuss what you need.
A structured 'consultation call' will help us get to know you better and for you to ask any questions you might have about the service we offer too.
If you like, we'll then handpick the Virtalent Virtual Assistant that would make the very best match for you and your business.
We'll aim to send you a proposal within 24 hours and you can then speak with your potential new hire directly, before making a decision!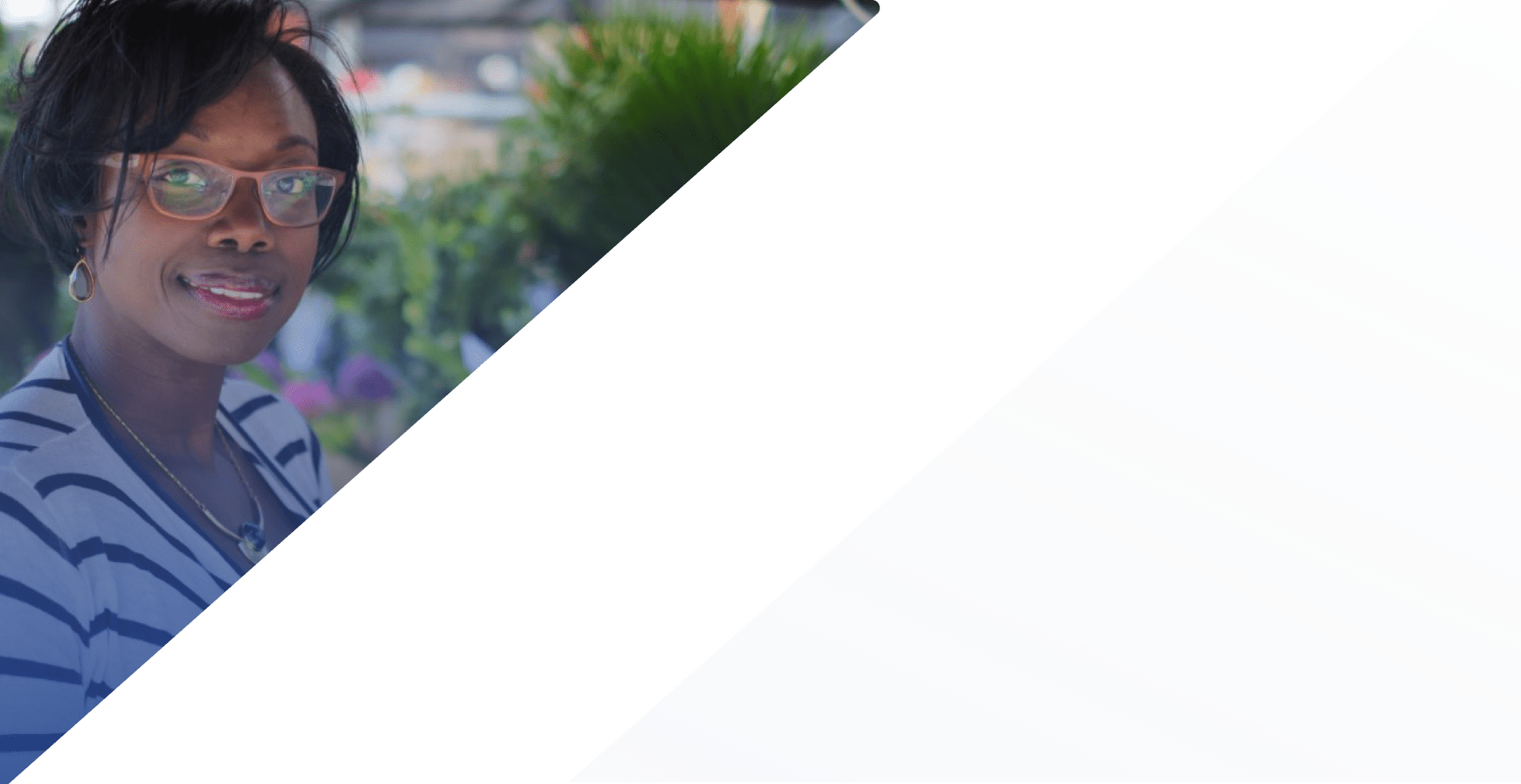 BARBARA BRAY
FOUNDER, ALO SOLUTIONS
These companies decided to trust us
Business is booming. You need help, and fast. Do you have the time to scour the globe for your new team member?